Next week we will be in Paris from wednesday until sunday (with possible extention to monday). We will be making pictures and staging our demonstrations around the activities for the COP21, just like we where at the COP15 in Copenhagen (where most people where freezing to death in the -9 degrees outside the conference halls).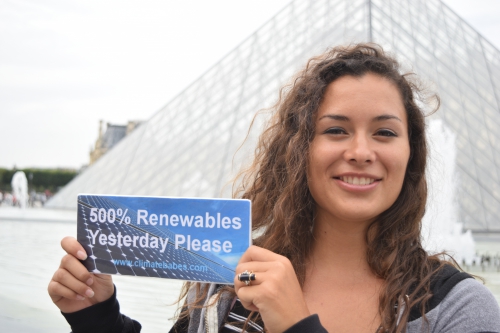 It's not about this COP21 actually. It does help. But seeing that Shell and other fossil companies sponsor it, that the whole event is a big perk for anyone that is into climate action but doesn't like to be cast out of the economic sect, and seeing that most progress has been achieved by people not caring for the laws, working with and around them to bring about more renewable energy electric transport, zero impact products and services etc. etc. the manna will not fall from the sky. What we are looking for is the opportunity to draw attention to the big secret of renewable energy : There is a lot of it.
Fossil fuel are really a pittance compared to solar. Wind is the cheapest, but solar is the most abundant and even as the climate warms solar will keep producing while wind will fall off as the winds die (they depend on large temperature differences, but this is many years from now). Solar can bring thousands of times the wealth we now enjoy, and will bring it without any negative side effects. If we embrace it.
Help us by using our banners (only with smiles and babes of course) and promote the idea that the sooner we break the power of fossil economics, the sooner we will all benefit from a wildly growing wealth, health and security around the world. All because the Sun is everywhere and nobody owns it (but for a woman in Spain, who actually claimed ownership of the Sun but doesn't seem to mind us using it's fallout radiation).
Invite us by tweeting to @climatebabes
Some COP21 Side event links
Link